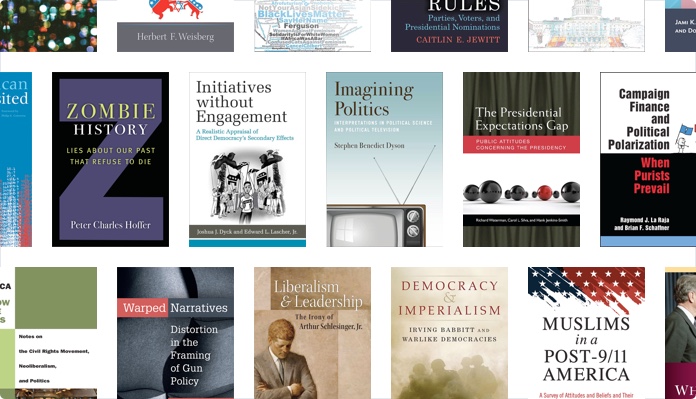 Dialogues in Democracy (University of Michigan Press)
The University of Michigan Press is pleased to announce the launch of "Dialogues in Democracy," a collection of at least 25 free-to-read books contextualized by multimedia resources including author podcasts and videos. Ideal for students and the engaged voter alike, these resources illustrate the core tensions in American political culture—tensions that erupt every four years during the presidential election and are particularly apparent during these unusual times.
In fall 2020, University of Michigan students, faculty, and staff will join together in a university-wide educational initiative to explore what it means to a member of a democratic society. The free titles featured in "Dialogues in Democracy" allow the public to join this "theme semester" from anywhere in the world, with a curated selection from the Press's world-renowned political science list enriched by interviews with the leading scholars who work with the Press.
"We've picked some of the best titles in the Press's political science list and worked with the authors to make their books free-to-read all this fall," notes Dr. Elizabeth Demers, the Press's editorial director. "I'm proud to act as curator of this trusted, peer-reviewed collection of authoritative books on every topic from voter behavior to gun policy."
A downloadable reading guide allows students and others to experience the richest, most comprehensive scholarship available today. Included books explore campaign finance and political polarization, how women work harder to stay in office, public attitudes concerning the presidency, guns and public health, the effect of the welfare state on low-income families, the remarkable rise of transgender rights, the politics of American Jews and millennials, and the central role that race will play in deciding who will next occupy the White House.
In addition to the recorded podcasts featured in the collection, a series of new online conversations with authors is being recorded. These will continue to enrich the "Dialogues in Democracy" feature throughout the fall.
The books are free to read through December 31, 2020, as part of the University of Michigan Press Ebook Collection on Fulcrum. The Press is grateful to Dr. Angela Dillard and the University of Michigan Presidential Debate Academic Advisory Committee for their support.
Learn more on Michigan Publishing's website.